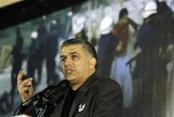 Bahrain's largest Shi'ite opposition bloc, al-Wefaq, welcomed the comments by the U.S. official, saying the government needed to be pushed to carry out the panel's recommendations.
"We appreciate this response and the Bahrainis are awaiting actions on the ground," said Wefaq member and former member of parliament Mattar Mattar.
"There is struggle in implementing the recommendations of the BICI and the regime needs to be pressured and monitored to apply it, rather than the international community just believing the regime's fake response, which contradicts the facts on the ground," he added.