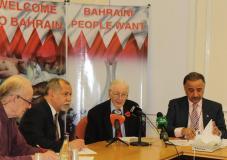 (Ahlul Bayt News Agency) - "The UK Foreign Office together with other countries are not robust in the condemnation of the human rights abuses committed by the al Khalifa regime," says veteran British peer Lord Avebury.
...
"We need more robust condemnation from them," he told a seminar at the British parliament entitled 'Bahrain; Time to support regime change and end occupation.'
He suggested that the UK government could at least call for the release of the political leaders in Bahrain and for the 3000 workers to be re-instated and compensated for lost income.
"Ultimately the people of Bahrain want to change their political system and we have to support them, not just for reform but for real transformation," the 83-year old peer said.
He referred to NATO intervening in Libya in support of regime change to maintain stability and asked "what was the difference with Bahrain?"
"We can ask for Saudi Arabia to withdraw its forces so that Bahrainis enjoy peace and freedom," Avebury further suggested.