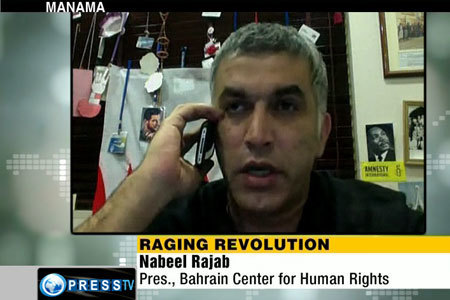 An exclusive interview with Nabeel Rajab, president of the Bahraini Center for Human Rights...
Rajab:" Well, you have to take something into consideration. Any democracy in Bahrain will have an impact in Saudi Arabia. And democracy in Saudi Arabia is something that they don't want to see.
Iraq becoming a democracy is a threat, which is not as close as Bahrain. Now, in Bahrain, which is walking distance from Saudi Arabia, democracy is reaching a close distance and is very dangerous to the Saudis. This is how they view it.
From the other side, you have to take something else into consideration, that we have realized those revolutions in the Arab Spring, that the Saudis influence in some European countries and the United States is more than the influence of those European countries and the United States on Saudi Arabia and the Gulf region.
That's why we have seen how much Saudi Arabia could silence, and the Americans could silence some of the European countries into saying anything or taking any strong decision on the Bahraini situation.
We have seen how much crime is being committed by specific countries and ignored by other countries. Unfortunately, we have realized that democracy in the United States and some European countries are important only to those countries they have a problem with, but not to those dictators whom they have a good relationship with, like Bahrain and Saudi Arabia.
See how much Saudi Arabia and Gulf countries come when the American president speaks and criticizes the situation in the Arab region when he talks about democracy, human rights, values and principles.
Saudi Arabia is always ignored, although Saudi Arabia is one of the biggest human rights violators in the region. But it is almost always ignored. Why? Because of the Saudi influence.
Unfortunately, the Saudi influence is very strong in the United States. It's very strong in Europe. That's why they could silence those countries in criticizing Bahrain. That's why for many months people were killed, a thousand people were fired, mosques were being demolished, people were arrested, systematic torture, houses being robbed by the army...in complete silence from the Western countries and the United States. Unfortunately, this is something you have to take into consideration. .... "