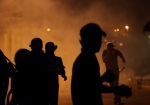 Isa Hassan, an uncle of the dead teen, claimed police overreacted when confronted by a small group of protesters after morning prayers marking the end of the holy month of Ramadan.
Hassan said the tear gas was fired from about 20 feet (seven meters) away directly at the protesters.
"They are supposed to lob the canisters of gas, not shoot them at people," he said at the funeral for the boy. "Police used it as a weapon."
In a report late Wednesday, Bahrain's official news agency said the autopsy showed a "neck injury was the cause of (the boy's) death, as there were fractures in that area causing bleeding around the spinal cord." The report by the Bahrain News Agency also said that the young protester had bruises on his chin, face, right hand, pelvic area and knees.
'the Martyr of Eid ...'