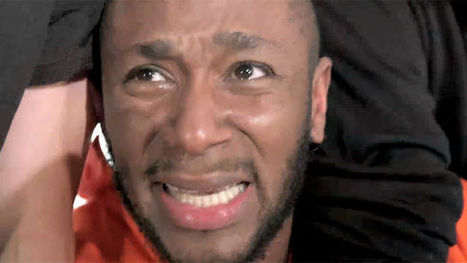 WILL YASIIN BEY (FORMERLY KNOWN AS "MOS DEF") BE THE NEXT MALCOLM SHABAZZ, WHO THE US GOVT UNJUSTLY DETAINED JUST MONTHS PRIOR TO HIS ASSASSINATION IN MEXICO ??
VIRTUALLY ON THE EVE OF THE BIRTHDAY OF MALCOLM X AND AFTER THE ANNOUNCEMENT OF THE BLACK STAR REUNION TOUR, YASIIN BEY HAS BEEN DENIED ENTRY BACK INTO AMERICA! HERE IS A MAN BORN IN BROOKLYN, NY! A MOVIE ACTOR AND RAPPER TREATED LIKE A TERRORIST ON THE FBI WATCH LIST!
COULD IT BE BECAUSE YASIIN BEY EXPOSED THE INHUMANE FORCE FEEDING TACTICS AT GUANTANAMO BAY IN 2013 ?? IN THE CAPTIVITY OF US FORCES, MUSLIMS WERE DENIED THE RIGHT TO OBSERVE RAMADAN, A HOLY MONTH OF FASTING BY BEING STRAPPED AGAINST THEIR WILL AND HAVE TUBES SHOVED INTO THEM WITH TERRIFYING FORCE !
COULD IT BE BECAUSE YASIIN BEY HAS SPOKEN OPENLY ABOUT HIS DISPLEASURE OF SOME OF OBAMA'S POLICIES? YASIIN BEY HAS RECENTLY RELOCATED TO SOUTH AFRICA BUT IT HAS BECOME CLEAR THE GOVT NOW SEES HIM AS A THREAT! A YOUNG BLACK MAN WHO CAN COMMUNICATE WITH A SLEEPING GENERATION JUST AS MALCOLM SHABAZZ WAS ABLE TO DO BUT WAS SLAIN ON FOREIGN SOIL IN A OBVIOUS TORTURE AND ASSASSINATION. OR IS IT THAT HE CHANGED HIS NAME TO REFLECT HIS NATIONALITY THAT THESE POWERS DON'T WANT THE WORLD TO QUESTION?
ON THIS DAY, THE BIRTH-DATE OF MALCOLM X, IS HISTORY REPEATING ITSELF ONCE AGAIN? I'M WARNING YOU OF THIS, IF SOMETHING SUDDENLY HAPPENS TO OUR BROTHER DO NOT ACT SHOCKED! NOW IS THE TIME TO GALVANIZE AND UPSET THE SET UP. THERE IS NO JUST REASON FOR THE GOVT TO DENY YASIIN BEY ENTRY INTO THE COUNTRY OF HIS BIRTH AND DENY HIM TO MAKE A LIVING..ARE THEY ARE PLANNING TO KILL THIS BROTHER? WE CANNOT ALLOW IT TO HAPPEN IF THEY ARE..MOORISH AMERICANS HAVE A COVENANT THAT INSIST WE MUST ASSIST OUR BROTHER WHO IS IN ADVERSITY. WE ARE SIMPLY HONORING OUR COVENANT AND WE WOULD LOVE FOR YOU TO HELP US IN HIS PLIGHT. PEACE