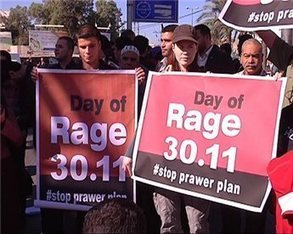 GAZA CITY (Ma'an) -- Dozens of Palestinian youth demonstrated in Gaza City Saturday in protest of Israel's so-called Prawer Plan to displace Bedouin residents of Negev.

Demonstrators raised posters rejecting the Prawer Plan and other Israeli practices against the Palestinian people.

The rally was organized by Gaza Strip's Intifada Youth Coalition in conjunction with an international "day of rage" against the Prawer Plan. ....