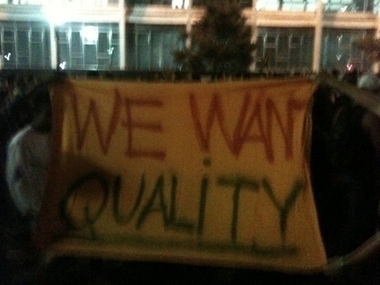 ..
Other than the problem of infrastructure, there are several corruption scandals which remain without trial, and the cases being judged have been tending to end with the acquittal of the defendants. The biggest corruption scandal in Brazilian history finally ended with the conviction of the defendants and now the government is trying to reverse the trial by using maneuvers through unbelievable constitutional amendments: one, the PEC 37, which will annihilate the investigative powers of the prosecutors of the public ministry (the Brazilian equivalent of the District Attorneys), delegating the responsibility of investigation entirely to the Federal Police. Moreover, another proposal seeks to subject decisions of the Brazilian Supreme Court to the Congress - a complete violation of the three powers.
Those are, in fact, the revolts of Brazilians.
The protests are not mere isolated, unionized movements or extreme left riots, as some of the Brazilian press says. It is not a teenage rebellion. It is the uprising of the most intellectualized portion of society who wants to put a stop to these Brazilian issues. The young national mid-class, which has always been unsatisfied with the political oblivion, has now "awaken" - in the words of the protesters....