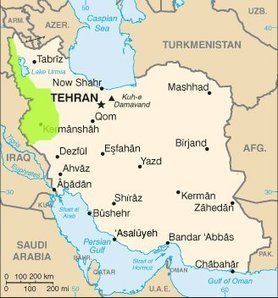 Kurdish men and women in Iran have cross-dressed to protest a 'sexist' punishment where a man was sentenced to be paraded down the street in female clothing.
Below is an article published by gaystarnews:
Kurdish men from the Marivan County in the Kurdistan province of Iran have launched a cross-dressing campaign to redress outmoded concepts of masculinity and femininity.
Over the last week, over 150 Kurdish men have posted photographs of themselves in women's clothing to campaign against the sexist nature of a court sentence which led to the public humiliation of a man by dressing him in women's clothing.
The campaign, entitled Kurd Men for Equality is a response to a sentence given to a convicted man by the Marivan County tribunal court on 15 April. The campaign's tagline reads: 'Being a woman is not a way for humiliation or punishment.'
According to Saman Rasoulpour, the convicted man was paraded down the streets of Marivan in a red tchador (traditional Kurdish women's clothing).
Rasoulpour stated that public humiliation is a common punishment for troublemakers.
Rasoulpour told us: '[In] this way, authorities are able to both demean the accused and deliver a warning to the public.'
However, Rasoulpour emphasized: 'This is the first time in Iran that an accused is paraded in women's clothes in the streets to humiliate him. It is unprecedented anywhere in Iran.'
In response to the judge's sentence, a local feminist organization of Marivan called the Marivan Womens' Community held a protest against the misogynistic punishment. The protest brought one hundred women on the streets of Marivan in a civil resistance campaign for gender equality....