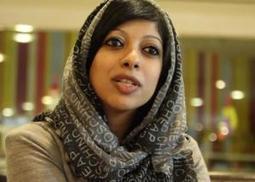 On 27 February 2013, human rights defender Ms Zainab Al-Khawaja was arrested by security forces during a peaceful sit-in in front of the Royal Palace in Al Qudaybiyah. Meanwhile, on 28 February 2013, the Court of Appeal rejected an appeal lodged by the human rights defender against a sentence of two months imprisonment, while an appeal against another one month imprisonment sentence was also rejected by the Court.
Zainab Al-Khawaja is a prominent human rights defender and blogger who has been active in calling for political reform and democracy in Bahrain. She currently remains in detention in Hoora Detention Centre.
On 27 February 2013, Zainab Al-Khawaja was arrested while protesting against the authorities' refusal to hand over the body of Mr Mahmoud Issa al-Jaziri, a pro-democracy activist killed during a demonstration on 14 February 2013 marking the second anniversary of the uprising in Bahrain.
The activist was reportedly killed after being hit in the head by a tear gas canister, when security forces reportedly attacked demonstrators in Nabi Saleh, South of Manama......