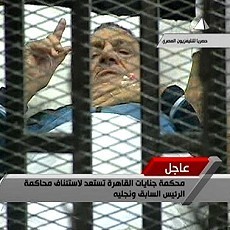 Egyptian protesters who ended the presidency of Hosni Mubarak continue to endure one legacy of the past - an all-encompassing emergency law.
...thousands of civilians face military tribunals.
The dismantling of Egypt's emergency law has been a key demand of anti-government protesters, and the current military rulers say they are considering its demise.
But human rights groups argue that actions speak louder than words and note that some 10,000 Egyptians have been put before military tribunals in the months since the January uprising. That is more, they say, than during the whole of Mr. Mubarak's 29-year rule.