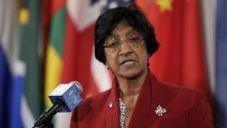 GENEVA — The U.N.'s top human rights official is expressing alarm at the violence and deaths of people opposed to Egypt's new draft constitution. Navi Pillay says she has numerous concerns about the text, which she believes weakens and undermines many of the human rights and freedoms of the Egyptian people.
U.N. High Commissioner for Human Rights Navi Pillay questions the haste with which Egypt's largely-Islamist constituent assembly adopted the final text of the draft constitution for presidential action. She says this and many of the surrounding circumstances have put the credibility of the process into doubt and contributed to the chaos in the Egyptian capital, Cairo, and other cities.
Egyptian President Mohamed Morsi's call to hold a constitutional referendum on December 15 has sparked the most violent protests since he assumed power in June.....