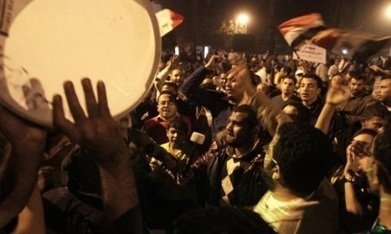 ....The Opposition dennounces president's move
However, Geogette Kellini, a one-time MP told Ahrakm online that president Morsi that she belives president Morsi is "bending the people's arm" by making them chose between "two fires": "the fire of an illegitimate constitutional declaration or te fire of an unconstitutional draft that is impossible to accept."
Meanwhile, the Judge's Club which vehemently opposes the president's recent constitutional declarration which gave him powers above the judiciary, including the right to shield the assembly from dissolution verdicts, have called for an emergency meeting to discuss their response.
Liberal politician Mustafa El-Naggar, a member of Adl Party and a former MP, said in a tweet that the president's decision to call for a referendum before consensus could be reached between non-Islamist and Islamist forces ended all changes for compromises to be reached.
"The fact that there were no representatives [left at the final vote]in the assembly of revolutionary youth, the church, civil forces, journalists - and the fact they [the remaining 85 members] prayed then debated and prayed then voted all day and night to finish the draft means that the president was certain that the HCC will void the Constituent Assembly, Kellini said.
Anti-Morsi forces have threatened to march on the presidential palace in Heliopolis if constitutional declaration was not withdrawn, and many judges, who are on strike against the decree, have threatened not to monitor the referendum.
Ahram Online also learned that representatives of various opposition groups and political parties who oppose the draft and the president's recent decrees are holding an emergency meeting in the early hours of Sunday to discuss their response to the call for a referendum.