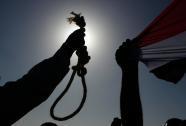 Some hoped the trial, which began Wednesday in Cairo, would be the first of several bringing longtime autocrats to justice. Others weren't quite sure what to make of the spectacle, torn between a desire for justice and the discomfort of seeing a once-all-powerful Arab leader treated like a common criminal.
For many others from North Africa to the Persian Gulf, the trial carried a deeper meaning. It was, in the words of pastry shop owner Saif Mahmoud in Baghdad, a rewriting of the rules between the region's people and their leaders. That's because unlike Iraq's Saddam Hussein, who was captured by American forces, Mubarak was brought to court by his own people.
In the West Bank city of Ramallah, 29-year-old Palestinian Salah Abu Samera saw emerging democracy.
"It's unusual in the Arab world," he said. "This is the first time we see a leader in a real court. This is good for democracy, good for the future. We've always heard of leaders on trial in Israel, in Turkey, in the U.S., or Europe. But this is the first time in the Arab world."

GET READY AL-KHALIFAS!, YOUR ON NEXT.............