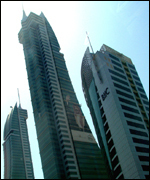 Knight Frank reports office rents in Bahrain down for the third consecutive year following the peak of the market in 2008...
Knight Frank believes that instilling "confidence" back into the real estate market will be the key to any future success for the country
Protesters need to keep pressure on the regime by NOT allowing there to be any 'confidence' in Bahraini markets!
When even the Sunni feel the bite of the bad Khalifa economy, the endtimes of the evil Khalifas will be at hand! General strikes, protests, economic disruptions of all manner must be masterminded!