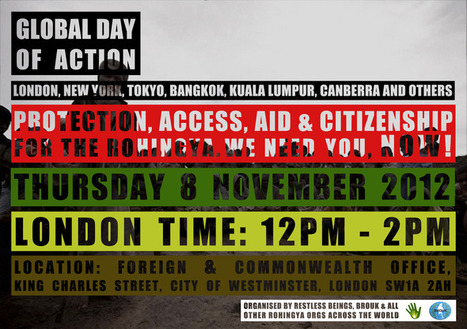 In response to the ineffectivity of international leaders to condemn and take action against the systematic attacks against the Rohingya of Burma, we call A GLOBAL DAY OF ACTION!
Since the eruption of violence in the Arakan state this summer over 100,000 Rohingya have been displaced.
In the past ten days the devastation has rapidly spread to other Muslim communities across Burma leaving scores of villages razed to the ground in wanton arson attacks.
Over 1000 homes were burned in the 'fresh wave' of attacks.
On Sunday night two mosques were bombed in the Karen State as the violence spread further outwards of Arakan, while 10,000 Rakhine forces, along with the Burmese Army surrounded villagers in Ramree Island.
During these new attacks 30,000 have been displaced, living in squalid camps with little or no food or aid or having to flee in dangerously overcrowded boats.
Foreign Office Minister for Burma, Hugo Swire shockingly defended the Burmese Governments handling of the situation whilst it is evident that there is state level complicity in the systematic attacks against the Rohingya, as it has quite certainly shifted from just inter communal violence.
We are working with the Burmese Rohingya Organisation UK (BROUK) as well as Rohingya advocacy organizations the world over in a global call for their protection, access to media and aid agencies and a call for a repeal of the outdated and discriminative 1982 Burma Citizenship Law.
LONDON
We will be voicing the Rohingya
Outside Foreign & Commonwealth Office Thursday November 8th 12pm- 2pm
Rohingya global day of action
"Never be afraid to raise your voice for honesty and truth and compassion against injustice and lying and greed. If people all over the world would do this, it would change the earth."
--William Faulkner