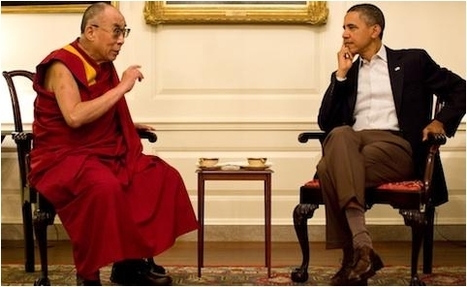 WASHINGTON/BEIJING (Reuters) - China accused the United States on Saturday of "grossly" interfering in its internal affairs and damaging relations after President Barack Obama met exiled Tibetan spiritual leader the Dalai Lama at the White House.
Obama met the Nobel Prize laureate for some 45 minutes, praising him for embracing non-violence while reiterating that the United States did not support independence for Tibet.
"(Obama) is naturally showing some concern for basic human values, human rights, religious freedom," the Dalai Lama said after the meeting, according to Saunders. "Naturally, he shows genuine concern about the suffering in Tibet and also other places," she quoted the Dalai Lama as saying.

The Dalai Lama is in Washington for the 11-day Kalachakra ritual, the first time the ritual has been held in the U.S. capital. The days of meditation and teachings aim to inspire inner peace as a means of reducing conflict around the world.