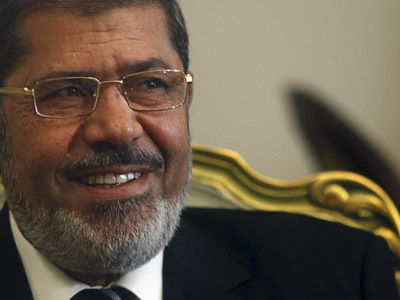 Egyptian President Mohamed Morsi is going to side with China and Iran to rebalance the region, Michael Hughes, foreign policy strategist at the Washington-based New World Strategies Coalition, told RT.....
The unspoken link here is Israel," Hughes said, explaining that Egypt can leverage its relationship to put pressure on Israel to stop this loose talk about bombing Iran.
"Here's the connection, for Morsi starts looking like a geopolitical genius. If he can pull this off, if he can make Israel to step back with the whole 'bombing Iran' thing – that would be pretty amazing," Michael Hughes said.
"After all, if Egypt finds Iran as a partner they don't have to rely on the US or Israel, and they can offset and counterbalance the Gulf monarchies," Hughes explained, saying that the Muslim Brotherhood that Morsi represents has a lot of problems with Saudi Arabia.
"It's an interesting dynamic. Even though the Muslim Brotherhood are Sunni – and Iran is Shia – they have a lot in common against the Kingdom of Saudi Arabia.