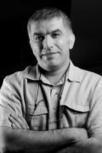 ...
"No easy road to democracy"
Nabeel Rajab has campaigned around the world to bring attention to human rights abuses in Bahrain, including the case of former head of the Bahrain Human Rights Centre and IMS partner Abdulhadi Al-Khawaja. Visiting International Media Support in fall 2011 to speak to Danish media and politicians to highlight the case Abdulhadi, Nabeel Rajab said:
- There is no easy road to democracy. I know this. But we believe that it is worthwhile fighting for the cause. We've seen it in Egypt, Tunisia and Libya and it must be possible in Bahrain.
Since February 2011, thousands have protested in the streets of Bahrain and been arrested for demonstrating their wish for democratic change in the kingdom. Despite promises by the government to stop crackdowns on its people and respect the rights of its citizens, the government continues on its course to silence those critical of the regime.