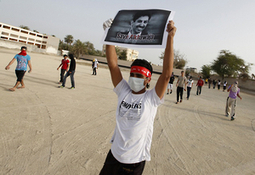 (Beirut) – Bahraini authorities should free Abdulhadi al-Khawaja and 13 other jailed leaders of last year's anti-government protests immediately, Human Rights Watch said today....
"The military court's original verdict was absolutely mind-boggling – it did not mention a single actual criminal offense beyond acts relating to their basic human rights," said Joe Stork, deputy Middle East director at Human Rights Watch. "Abdulhadi al-Khawaja and his co-defendants should not have to spend even one more day in prison for so-called crimes of speech and peaceful assembly."....
The Bahrain Independent Commission of Inquiry (BICI), appointed by King Hamad bin Isa Al Khalifain June 2011 and consisting of five international human rights experts, issued its 489-page report on November 23. It confirmed systematic and egregious rights violations by the government in suppressing protests and concluded that a lack of accountability had led to a "culture of impunity." The commissioners called for judicial review of military court verdicts and said that the government should void convictions of people convicted for peacefully exercising internationally recognized rights of freedom of expression and assembly, and release them.
Human Rights Watch called on Bahraini authorities also to drop all charges against the seven co-defendants not in custody and tried in absentia, for the same reasons.