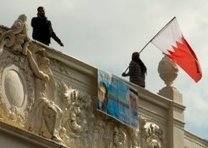 UN leader Ban Ki-moon has raised concerns over a Bahraini opposition activist who is on hunger strike in prison amid fears about his deteriorating health.
Ban is worried about clashes between security forces and demonstrators in Bahrain and the case of Abdulhadi al-Khawaja, who started refusing food on February 8, his office said in a statement released late Tuesday.
"The secretary-general once again urges the Bahraini authorities to resolve Mr Khawaja's case based on due process and humanitarian considerations without any further delay," the statement said.
Ban called on Bahrain's authorities "to fully respect the fundamental human rights of the Bahraini people, including due process concerning all detainees."......