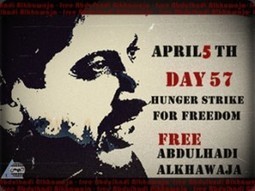 ...
Barrett: Well, that is a very, very good question. It is stunning- the hypocrisy, coming out of Washington and these human rights issues. Abdulhadi al-Khawaja is a classic nonviolence activist and pro-democracy activist.
If the words coming out of Washington were matched by deeds, he would be lionized by the US government; he would be all over the front pages of American newspapers and Fox and so on.
But of course that's not happening, because the US has its fifth fleet in Bahrain and the US has made these unholy alliances, not only with the al-Khalifa regime in Bahrain, but also with the other retrograde [Persian] Gulf monarchies.
So he is entering the third month of his hunger strike and in very terrible shape, and Obama, the man who was supposed to be putting a new face on America's Middle East policy, is keeping quiet and that tells you a lot about who really controls the political process in Washington DC and the way the media isn't covering this in the US, tells you a lot about who really controls the media here.
Press TV: Who, who controls the media in the US when you say that? Who are you referring to; when you say media are controlled?
Barrett: Over the decades…, media in the US is controlled in a number of ways.
One is, by actual Central Intelligence Agency [CIA] people, who are planted in various media operations.
The agency also deals directly with the owners and CEOs of media companies and there has been this total conglomeration of media over the past couple of decades and now about six organizations control just about everything that Americans see in the media.
So there is a combination of government interference in the media, secret, covert operations with the media and the media being bought up by a very, very small number of wealthy individuals, who operate with the US government.