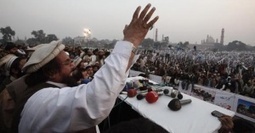 Khawaja's lawyer, Mohammed al-Jishi, said Khawaja had been moved from an Interior Ministry clinic to a military hospital which was better equipped. The authorities had said on Wednesday he had been moved to the Interior Ministry clinic after losing 10 kg (22 pounds).
"His condition has worsened. ... His blood pressure is down, and he is getting an IV (intravenous) drip," Jishi told Reuters by telephone.
...
His daughter, rights activist Zainab al-Khawaja, was detained during a protest on Thursday in front of the Interior Ministry. The ministry said in a statement she had "assaulted a public employee."
[Bogus trials, bogus arrests, and a bogus regime....]