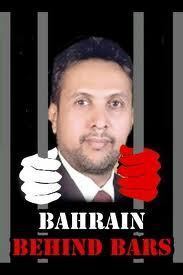 Saturday, April 6 will be exactly two years since Mahdi Abu Deeb, President of the Bahrain Teachers Association (BTA), was arrested for his part in the peaceful uprising. He was tortured, subjected to unfair military and civilian trials and is serving a five-year sentence.

Washington has been relatively muted about the Bahrain crackdown, and we are told the U.S. government has to carefully weigh "other equities," including the U.S. Fifth Fleet based in Bahrain, before it openly criticizes the regime's human rights violations. Although the U.S. Embassy in Bahrain sent observers to Abu Deeb's court hearings, it hasn't spoken out about the fairness of his trial.

Abu Deeb is one of Bahrain's most prominent human rights defenders, jailed for exercising his right to peaceful expression. He spoke at political meetings during the February and March 2011 protests for democratic reform in Bahrain, and when the government responded with a violent crackdown starting mid-March he was targeted. After seven failed attempts to find and arrest him, Deeb was finally taken into custody on April 6, 2011.

Following his arrest he spent 64 days in solitary confinement, was beaten, and electrocuted. Cellmates Abdulhadi al Khawaja and Mohamed al Tajer report hearing him being beaten. He was forced to sign false confessions and tried in a military and then civilian court with the Vice-President of the BTA Jalila al Salman, who had also been tortured in custody. ......