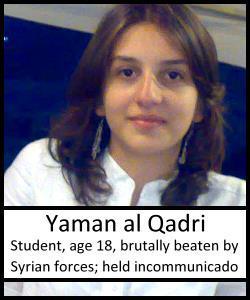 About Yaman Al Qadri:
Yaman Al Qadri is an 18-year-old medical school student at Damascus University. She is studying dermatology.

On 3 November 2011, an estimated 10 Syrian security agents viciously beat teen-age Yaman in front of her classmates at Damascus University, dragging her, throwing her into the walls, and brutally assaulting her. She was then forcibly taken along with a classmate to an unknown location. Her classmate was released an hour after the arrest but Yaman is still being held incommunicado.
[Plz send letters to the releveant ministries and news outlets to ensure her speedy release!]