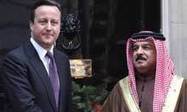 Downing Street said that Cameron "urged the king to deliver swiftly on the commitments he has made to implement the recommendations from the inquiry and to drive forward reform and reconciliation in the country, engaging with the opposition as part of that process". Britain is offering help with judicial reforms.
The opposition's key demand is for the release of prisoners and the reinstatement of people who were sacked after joining anti-government protests.
[Swiftly?! The fact that the sacked are STILL sacked and that all Prisoners of Conscience are STILL imprisoned, is evidence of the Do-Nothing mindset of this fascist dictator!]
Yasqut Hamad!