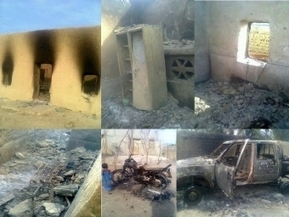 Kech :
Report by Shawn Forbes Pakistani Military Forces resumed their offensive through Western Balochistan this week. After their February siege of Awaran, Pakistani Forces pressed forward through Turbat and Nasirabad on Monday.

On March 3rd the rural towns of Shapuk and Sharak, Turbat, were invaded by legions of Pakistani Soldiers. During the occupation of Shapuk & Sharak, Pakistani Soldiers attacked the civilians, subjecting them to interrogations and acts of torture.

Local homes were looted of valuables and set ablaze. Their violent occupation quickly spread to encompass Balagter and Saami regions, heralding the arrival of dozens of trucks carrying additional soldiers and heavy weapons. Locals report explosions and gunfire could be heard throughout the night. By the next day Armored Helicopters had arrived and Pakistani Forces then proceeded to indiscriminately bombard the entire region. Dozens have been abducted, and countless homes reduced to ashes by the occupying soldiers.

After amassing their troops in Turbat, State Forces extended their violent campaign into the nearby Panjgur district on Tuesday. The Pakistani Army conducted a fierce assault at a rural village in the Maachi River area of Panjgur. So far local sources have reported eight residents killed and at least a dozen wounded by Pakistani Soldiers during the siege. A week prior to the attack, Panjgur Inhabitants had reported Iranian rocket fire in the region.