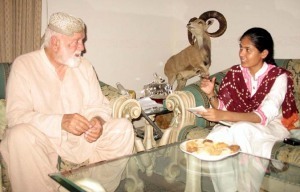 ....
Q: How do you see Balochistan?
KBM: (His eyes given brighten and happily) said, how I do see my Balochistan? It is beautiful, attractive where always love is and while singing songs, shepherd, a man who looks after his sheep, where mountains are looking more beautiful and perfume in air… (He became silent) then slowly telling; to me Balochistan is beautiful.
Q: Is Balochistan burning?
KBM: (Actively responded) this is the question, yes! Balochistan is burning.
Q: Who is responsible anguish of Balochistan by now?
KBM: I think, this responsibility goes on shoulder of international power and this Pakistan its subordinate, America is supported them, they (Pakistan) are sinner and guilty that they have captured our resources. .....
[ Shameful and embarassing! America allied with Pakistan! ]