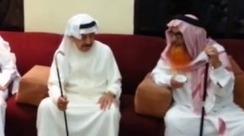 Circulated footage showed the current Prime Minister of Bahrain assuring an officer, who is accused of torturing detainees, that "the law cannot be applied to him" and thanking him for his "good work".

Al-Wefaq National Islamic Society in Bahrain said that this is a message from the regime to the international community that the authority is supporting the culture of impunity and the law is only used to persecute dissidents. This is an honest and direct statement made by the top official in the illegitimate government, al-Wefaq added.

Al-Wefaq stated that this is a dangerous official declaration admitting that state institutions, including the judiciary, are not independent, but rather cosmetic tools. The people of Bahrain have long raised the demand for an independent and impartial judiciary....