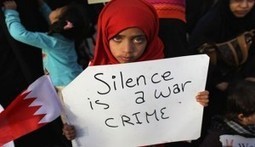 Bahraini police forces have detained more than 200 children across the Persian Gulf nation during raids on their homes and over the past year, the country's main opposition group said.
In a Thursday report titled "Bahrain: Repression – The Shadow of Tyranny," Bahrain's Al-Wefaq National Islamic Society listed the human rights violations committed by the Manama regime in the course of 2013.
According to the nearly 130-page report, Bahraini regime forces detained 214 children last year, with most of them being detained during raids on their houses. A number of other children were also taken from their schools, the report added.
The report, drafted by Al-Wefaq's Liberties and Human Rights Department (LHRD), further said the Bahraini regime made 7,342 arbitrary arrests between 2011 and 2013. It also highlighted the demolition of religious structures in the Persian Gulf country as well as Manama's restrictions on religious freedom.
"The human rights situation in Bahrain has reached dangerous levels," said Sayed Hadi al-Musawi, the LHRD head, adding, "Bahraini citizens are exposed to different forms of violations…, including killing, torture and arrest."
The LHRD official further criticized the international community for remaining silent in the face of the Manama regime's numerous human rights violations, saying that the world "is standing on the sidelines and watching as the atrocious human rights abuses continue in broad day light."...