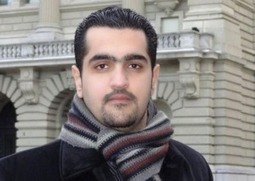 On 23 November 2013, Mr Hussain Jawad was arrested on charges of "inciting hatred against the regime". He was arrested while lodging a complaint regarding a defamation campaign against a number of human rights activists in Bahrain. Hussain Jawad remains in custody in Dry Dock prison.
Hussain Jawad is Chairman of European-Bahraini Organisation for Human Rights(EBOHR), an international organisation that works to defend human rights across the Middle East. Hussain Jawad has publicly called for a peaceful struggle to demand democracy in Bahrain.
On 22 November 2013, a number of prominent Bahraini activists were accused in the press of, inter alia, arming opposition militant factions, inciting xenophobic violence, and propagating sectarian discrimination. The state press has engaged in this defamatory media campaign in an attempt to denigrate Bahraini human rights defenders, and EBOHR has accused other organisations of this tactic; namely, Bahrain Human Rights Watch Society, Karama Human Rights Society, and The European-Gulf Centre of Human Rights.
On 23 November 2013, Hussain Jawad went to the Central Province Centre to file a complaint against these media organisations and the Chief Editor of Gulf News, Mr Anwar Abdul Rahman. The Gulf News newspaper has published pictures of human rights defenders as part of this smear campaign.
While at the Central Province Centre, Hussain Jawad was notified that a police patrol was on its way from Naeem Police Station to arrest him. Two police officers in civilian clothing arrived and attempted to handcuff Hussain Jawad. Initially, Hussain Jawad refused to be handcuffed, but after some discussion, he agreed and was escorted to Naeem Police Station to be questioned in the presence of his lawyer, Mr Saeed Sarhan. The interrogation related to charges of "inciting hatred against the regime" in light of a speech he delivered during Ashura season in Manama. Hussain Jawad was later transferred to Hoora Police Station, where he remained in detention overnight.
On 24 November 2013, the Public Prosecutor ordered that Hussan Jawad remain in custody for fifteen days pending further investigation. Currently, Hussain Jawad is being held in Dry Dock prison, the Ministry of Interior's Short-Term Detention Unit in northern Bahrain.