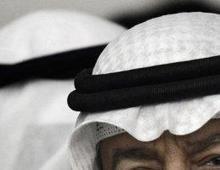 Thousands of Shiite protesters in Bahrain Saturday demanded a transition government and the removal of Prime Minister Sheikh Khalifa bin Salman al-Khalifa, who has been premier since 1974, witnesses said.
They said the demonstrators marched in the village of Diya near the capital Manama, chanting "Resign, Khalifa!" and waving Bahraini flags.
The Shiite opposition in the tiny Sunni-ruled Gulf kingdom is led by Al-Wefaq, which wants a government of technocrats to rule in a transition leading to a constitutional monarchy. ....