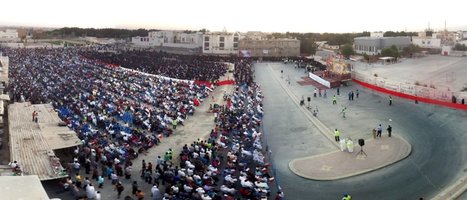 Salman then turned to the current situation in Bahrain:
...'There is a political crisis whose origins are dictatorship and tyranny and the disaster of human right violations. At the moment there is a committee [the Bahrain Independent Commission of Inquiry] formed by royal order to investigate these violation. Regardless what this committee addresses and reports, I do not need someone to tell me that you have been tortured. I do not need someone to tell me that your house have been violated and your money has been stolen. We have all seen that and felt it by our hands.
This committee is doing its job in identifying those violations. However, despite any results and recommendations of this committee --- if they are not followed by political change --- the human rights crisis that it came to fix will remain and be renewed. The root of the issue, the political problem of dictatorship, is not solved....
We have the rights set out in religion, in the mind, in the international covenants, in the National Action Charter, and in the Constitution. The people are entitled to choose their government in accordance with this and we will continue our right to claim this by peaceful means, before and after the report of the Committee. In order to achieve the legitimate demands of the people, the government' must response today or tomorrow will be forced to respond....Here I renew the invitation to continue the popular peaceful movements for democracy until it responds.
This path will not stop until we reach our goals, even if we have been killed, thrown in jail, kicked out of the country.
The [authorities] attempt to divert attention from the political problem of the dictatorship, with the talk about Iranian interference and the sectarian revolution of Bahrain, and fabrications [of violence]... It is too late for the world to believe this nonsense and it has been exposed....
The truth in Bahrain is clear today, it is a conflict between democracy and freedom against oppression and tyranny, this country is fed up with a vicious cycle of continuous crisis, erupting every five or ten years. The country cannot continue in this way since [the uprising in] 1923....Bahrain will remain in this vicious circle unless we unite for the transition from dictatorship to democracy....
It is time to unite all the homeland forces and by the rights of those children and future generations to enjoy stability. Instead of dictatorship, impaired development, and the disruption of achievement, let's put our hands together to turn to a democracy for Sunnis and Shia, Islamists and secularists....The people of Bahrain deserves better government and a better life as well as dignity, God willing, it will arrive and everyone will join at this font and bless it when we win....'