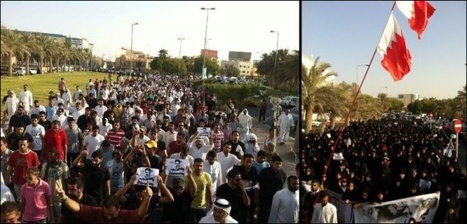 Late Friday night, news began circulating on social media that 16-year-old Hussam AlHaddad was in critical condition after he was shot by security forces in Muharraq. Soon word came through that he had died in hospital from his injuries.
The circumstances of Hassam's killing remain murky, with allegations that he was beaten by citizens in civilian dress following the fatal shooting. Footage of Hussam's corpse shows that he was shot in the back and side, challenging the police narrative that the shooting was in self-defence. Marks on his back and shoulder also support the claim that he was hit as well as shot.
Late Saturday, the main opposition party AlWefaq announced a three-day state of mourning, with pleas to the people of Bahrain to abandon all joyful celebrations during Eid in respect to the martyr Hussam AlHaddad", adding that it will be lowering "flags to half-staff". The February 14 Youth Coalition called for further protest under the heading, "Our martyr Hussam ... Revenge will come". ...