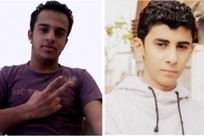 Jehad Sadeq and Mustafa Al Muqdad are reportedly two of at least 8 youth the detained president of the BCHR, Nabeel Rajab, reported witnessing their torture.
On the 14 of May 2013, Bahraini top activist, Nabeel Rajab, stated in a telephone call from jail that he witnessed the torture of young political prisoners by the guards in Jaw prison and asked his wife to request that the ICRC visit him so he can report what he saw. That night he was removed from his cell (Read: http://abna.ir/data.asp?lang=3&Id=419724 ).
Further reports from Bahrain's Jaw prison identified some of the youth that were reportedly tortured that day, amongst them two children, Jehad Sadeq and Mustafa Al Muqdad. To conceal what had happened, they were removed from their cells and put in solitary confinement. Their family reported that they have not received any calls from their sons for more than a week now. Jehad did not attend his scheduled appeal hearing on the 21st of May 2013.....