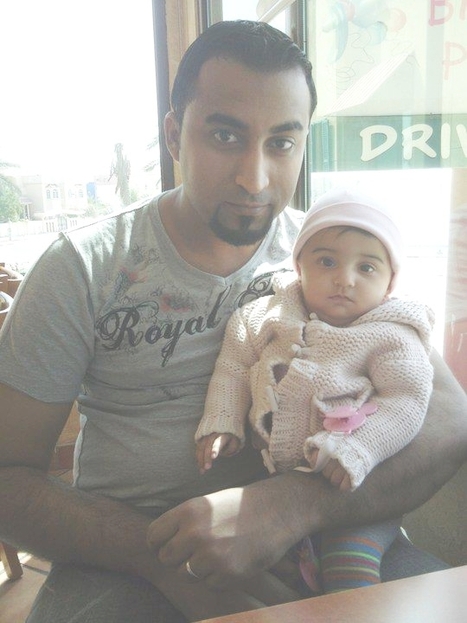 This is the full story of decent policeman Ali Alghanmi, who sentenced for over 12 years in prison for resigning from #Bahrain police force to condemn the brutal attack on peaceful protesters.
So many people in #bahrain refused since the very beginning the brutal crackdown on the peaceful protests in this small island.
One of those who refused the brutality used against the protesters was policeman Ali AlGhanmi, 26 years old a husband and a father.
Ali is an ambitious young man and has nothing to do with politics at all. He is from Bani Jamra village that is still under attack.
Due to his sufferings at work in the @moi_bahrain, it was the revolution of #Bahrain the spark for change in Ali's life.
Ali AlGhanmi said that he worked in the police, because he loved #Bahrain so much. He was a police in the Rescue Force until things was to change.
Ali suffered from the illtreatment of Shia policemen in @moi_bahrain. The mercenaries were treated way better. He was not happy. For that, he was transferred by @moi_bahrain from being a rescue policeman to a guard for a villa! Just because he was Shia!
While he was guarding a villa, he heard about the brutal attack on the 17th of February on the peaceful protesters at the pearl roundabout.
Ali was very sad, and grieved. He went straight away to the pearl, roads were all blocked so he headed to Salmaniya Medical Complex #bahrain
Did you know that policeman Ali AlGhanmi helped rescuing the injured and the wounded protesters? Some protesters were killed. #bahrain
He remained in the hospital helping injured with the medics. Martyr Mahmood Abutaki was his brother's friend #bahrain http://pic.twitter.com/1XjtvvZi
That's when the brave Ali AlGhanmi wore his police uniform and went to the crowd to announce his resignation from @moi_bahrain #bahrain
Ali refrained this police force that killed his own people in front of his eyes. He knew most of them were mercenaries #bahrain
The crowd of the protesters were really overwhelmed, hugged Ali AlGhanmi & carried him on the shoulders #bahrain http://pic.twitter.com/QEFBWtQr
People were happy to see honest policemen who don't accept the brutality used against this peaceful movement #bahrain http://pic.twitter.com/SnwJ3cOy
There were numerous media interested in interviewing Ali to find out the reasons for his resignation & joining the people of #bahrain
Ali took a decision, a decision of the braves. He joined the rebels in the streets, and demanded his rights #bahrain http://pic.twitter.com/zlTOy2N4
so many people feared for Ali's life. It was brave what he did. He kept sleeping at the pearl for a month #bahrain http://pic.twitter.com/3RncXhjo
Ali stayed at the pearl, because he felt safer there. Until when the peninsula shield attacked the pearl roundabout and evacuated it #bahrain
From March 17th Ali remained in hiding at several places, especially after the arrests of some of his Police colleagues. #bahrain
Ali AlGhanmi was arrested on May, when an informer told on him. His house was stormed by police forces many time after his arrest #bahrain
His family were abused, and his brothers were beaten inside the house by police forces even after Ali's detention #bahrain
Ali since then is in solitary confinement, and was put on military trial, where he faced cruel sentences #bahrain
Ali's only guilt was standing by his people and refusing the brutality. Ali's only guilt was wanting his freedom #bahrain
Ali misses his daughter Zainab, as she misses her dad so very much #bahrain http://pic.twitter.com/mXa4Vle0
We in #bahrain are so proud of him. He is noble, as so many other policemen are. Those police were all arrested for disobeying
Ali AlGhanmi and the rest must be free. They are good policemen. And the people of #bahrain are proud of them http://pic.twitter.com/9HEnvu0h
Brian Dooley: "Ali was tortured in detention & has been put in solitary confinement for shouting 'Down Hamad' in the prison yard" #bahrain
Dooley: "Ali's charges were Inciting hatred against the regime, Inciting military personnel against the regime & Absence from duty #bahrain
Dooley says: "Ppl like Al Ghanmi, who put conscience above all else, are heroes of the #ArabSpring, & they shouldn't be forgotten #bahrain
Human Rights First writes: "Many Shiites feel they are not properly represented in the security forces" #bahrain http://www.humanrightsfirst.org/wp-content/uploads/HRF_Bahrain-The-Gathering-Storm_February-2012.pdf
HRF adds (same source): "police often Sunnis recruited from Pakistan, Yemen, Jordan, & elsewhere are inherently antagonistic 2wrds them #bahrain
HRF: "A significant number of soldiers and members of the police force refused to join in the government crackdown" #bahrain
HRF shares more information saying: "and many, perhaps hundreds, were arrested and detained" #bahrain
HRF: "We estimate that around 160 members of the police force and 20 soldiers were convicted for refusing to join in the crackdown #bahrain
HRF: "Most have been released and are waiting for an appeal date, but we estimate that several dozen remain in detention" #bahrain
HRF: "Virtually all are Shia. A lawyer said 2 Sunnis who are former policemen being prosecuted 4 refusing 2 join the crackdown #bahrain
HRF mentioned in their report: "In detention, according to consistent and credible accounts, they faced mistreatment" #bahrain
HRF: "...that fits the pattern of widespread detainee abuse documented by Human Rights First and other human rights groups" #bahrain
HRF continues: "They said they were blindfolded, handcuffed, tortured, and not given adequate access to lawyers" #bahrain
Moreover, HRF: "Some say they were also leg-cuffed. Several said they had been made to stand for long periods" #bahrain
HRF said: "and told that their female relatives would be sexually assaulted unless they signed a confession" #bahrain
Human Rights First writes about Policeman Ali AlGhanmi: "Ali likes reading history & eating Indian food, but his passion is soccer" #bahrain
HRF: "He joined the police in 2004 because he said he really liked to help people, and because he wanted to serve his country" #bahrain
HRF: "When he first joined he worked on rescue patrols and then was transferred to the security guard division" #bahrain
HRF says: "He says he had great relationships with Sunni policemen. Other Shiite policemen, like him, held low-ranking positions #bahrain
"Ali said after he was arrested he was subjected to various forms of mistreatment and torture" Human Rights First #bahrain
"He was doused with water while naked in a room with the AC on high. blindfolded, beaten, no food or access 2 the toilet 4 more than 2 days"
HRF told in the report: "Ali AlGhanmi was sentenced to 12 years & 3 months imprisonment on January 9, 2012" #bahrain http://pic.twitter.com/ntmilGEX
Hamad Bin Isa AlKhalifa, free Ali AlGhanmi are the rest of policemen and soldiers. Those are noble persons who will build up #bahrain future
Those brave policemen and soldiers will come out soon with the heads up and high. Sunnis & Shia of them together, hand in hand #bahrain