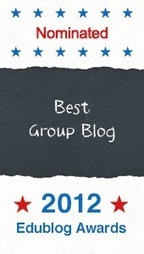 If you have seen me before at conferences and teachmeets evangelising the benefits of having digital leaders in school you will be fully aware of how I first became inspired to employ them in my school; Chris Mayoh has inspired many teachers, not just with his approach to employing digital leaders, but with his thoughts and ideas in many areas of ICT. Today he managed to inspire me even further, alongside the curriculum innovations team he works with in Bradford. I was fortunate enough to be asked to meet with Chris, Tim and Lucy (the DigitalMe team), Paul Scott (Bradford curriculum innovation manager), Tim andJames (curriculum innovations consultants and top chaps!) to share knowledge and ideas about four key areas:

The national context of digital leadersKey advocates of digital leaders nationallyThe open badges initiativeDeveloping digital leaders nationally
Having worked with both Lucy and Tim before, I was aware of the energy they have put into 'badge the UK' and am a big fan of their approach, ethos and values. Their digital leader badge framework has been created by listening to the ideas and views of students and digital leader advocates, in collaboration with the SSAT. It will be valid and relevant because of this.