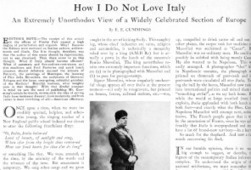 [...] Mussolini was acclaimed as "Caesar". But Mussolini was no ordinary man. He could not possibly be satisfied with being merely Caesar.
He also wanted to be Napoleon.
This was easily arranged. A photographer "shot" him in Napoleonic costume, the photograph was printed on thousands of post-cards and the post-cards were circulated all over Italia.
Taking the bull by the horns, Mussolini now rushed into international politics and mixed them up "something awful", as we say back home.
But while the world at large recoiled from his exploits, Italia applauded with both hands and both feet—and exactly what the Hon. Caesar Napoleon Mussolini will attempt next, nobody knows. The French people guess that it will be the annexation of France, since he says quite frankly that Italia is overpopulated and must have a lot of brand-new territory—in a hurry. So much for the shepherd. And now a few words concerning his flock.