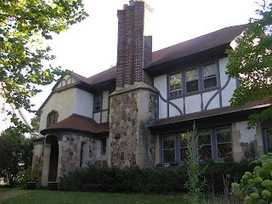 The Real Estate section of yesterday's Post-Standard (Sept 16, 2012) prominently featured a beautiful Tudor-style house at 202 Scottholm Blvd, built in 1928, and now for sale.
Scottholm Boulevard is one of the loveliest street in the city, and since I am giving a walking tour of the area in October, my wife and I hurried over to the open house to better explore the house.
Yates was a productive - even prolific - designer of houses for new suburban housing tracts developed around the edges of Syracuse in the late 1920s, until the market dried up in the first years of the Depression.