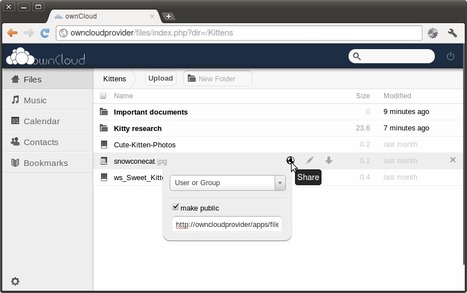 "Everyone likes personal cloud services, like Apple's iCloud, Google Music, and Dropbox. But, many of aren't crazy about the fact that our files, music, and whatever are sitting on someone else's servers without our control."
OwnCloud allows you to set up your own cloud server for file-sharing, music-streaming, and calendar, contact, and bookmark sharing project.
"OwnCloud offers the ease-of-use and cost effectiveness of Dropbox and box.net with a more secure, better managed offering that, because it's open source, offers greater flexibility and no vendor lock in."
OwnCloud enables universal access to files through a Web browser or WebDAV. It also provides a platform to easily view and sync contacts, calendars and bookmarks across all devices and enables basic editing right on the Web.
Programmers will be able to add features to it via its open application programming interface (API).
Read more about it: http://www.zdnet.com/blog/open-source/owncloud-an-open-source-cloud-to-call-your-own/10011 ;
Check the official site: http://owncloud.org/ ;
Try it out now: http://demo.owncloud.org/files/index.php ;
or download it: http://owncloud.org/releases/owncloud-2.0.1.tar.bz2 ;
Via
Robin Good