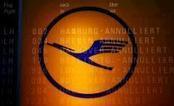 (Reuters.com) - Lufthansa would only enter into any partnerships with Gulf carriers from a position of strength, its chief executive said this week, justifying plans to widen a cost-cutting drive that helped it post higher-than-expected quarterly profits.
Arabian carriers are expanding their capacity, gnawing into European legacy airline's originating traffic in Europe and stealing market share from profitable inter-continental flights.
But with costs for fuel and labour rising and the economy weakening, traditional airlines are also forced to re-jig alliances and tie-up with rivals whose hubs are in Dubai, Doha and Abu Dhabi.
No sooner had Australia's struggling Qantas Airways clinched a 10-year alliance with Dubai's Emirates in September than Air France-KLM agreed on a code-share agreement with Etihad and Air Berlin.
"Air France and Air Berlin have entered these partnerships from a position of weakness," Lufthansa chief executive Christoph Franz told reporters on Wednesday.
"We do not want to do this, we are not under pressure, and we can and we will assess any potential partnerships very carefully," he added.