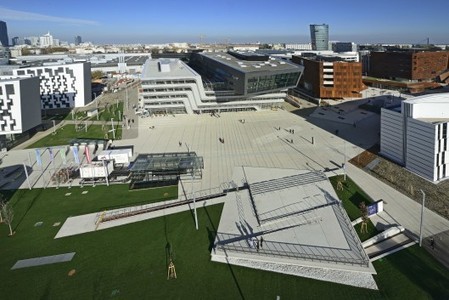 The new campus of the WU (Vienna University of Economics and Business) is a like a smorgasbord of 21st century architecture, with signature buildings by Zaha Hadid Hitoshi Abe and Estudio Carme Pinós, among others. But the world-class campus has equally high standards for energy efficiency and sustainability.
Though the buildings of the 100,000 square-meter (1 million sq-ft) campus were created by a roster of international talent, the master plan was conceived by the Viennese office of BUSarchitektur in partnership with BOA (büro für offensive aleatorik, or "Studio for Offensive Randomness"). BUS also designed the Teaching Center.
The school opened in October 2013 to 25,000 students and 1,500 faculty, but its green energy ethos was in place well beforehand, as work was carried out according to Guidelines for Sustainable Construction. These include environmentally-friendly logistics and the reduction of traffic, dust and pollution during building.
Click headline to read more and view pix gallery--
Via
Chuck Sherwood, Senior Associate, TeleDimensions, Inc