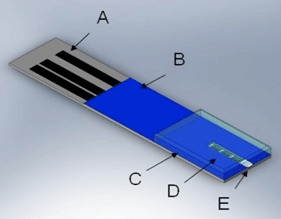 For those who suffer from diabetes, the pain that comes with pricking one's finger often discourages consistent blood glucose monitoring.
Tear glucose has been suggested previously as a potential approach for the noninvasive estimation of blood glucose. While the topic remains unresolved, an overview of previous studies suggests the importance of a tear sampling approach and warrants new technology development. A concept device is presented that meets the needs of a tear glucose biosensor.
Three approaches to chronoamperometric glucose sensing were evaluated, including glucose oxidase mediated by potassium ferricyanide or oxygen with a hydrogen peroxide catalyst, Prussian blue, and potassium ferricyanide-mediated glucose dehydrogenase. For tear sampling, calcium alginate, poly(2-hydroxyethyl methacrylate), and polyurethane foam were screened as an absorbent tear sampling material. A quantitative model based on the proposed function of concept device was created.For glucose sensing, it was found that potassium ferricyanide with glucose dehydrogenase was ideal, featuring oxygen insensitivity, long-term stability, and a lower limit of detection of 2 μM glucose.Polyurethane foam possessed all of the required characteristics for tear sampling, including reproducible sampling from a hydrogel-simulated, eye surface (4.2 ± 0.5 μl; n = 8). It is estimated that 100 μM of glucose tear fluid would yield 135 nA (14.9% relative standard deviation).
While the device has numerous challenges ahead, such as obtaining reproducible results, proof-of-concept has been demonstrated and the project has received backing from Mayo Clinic and BioAccel, an Arizona biomedical commercialization non-profit.
Via
Dr. Stefan Gruenwald