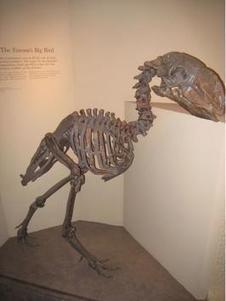 Fossil footprints likely made by the giant bird Diatryma suggest it was a "gentle herbivore" and not a fierce carnivore, U.S. researchers say.
Scientists had previously believed the giant bird was a carnivorous predator or scavenger but the absence of raptor-like claws in footprints uncovered in a landslide in 2009 supports the theory Diatryma was not a meat-eater, they said.
Measuring 7 feet tall with a huge head and beak, the giant flightless bird is commonly portrayed as a fierce predator and was thought of as "the bird that replaced dinosaurs as the top predator," researcher George Mustoe of Western Washington University in Bellingham told the BBC.