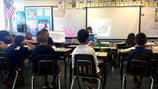 Labels in special education children are a burden, said Rosita Delgadillo. Being rejected or being bullied affect their personality.
"They see that and they start thinking that they are not good enough," she said.
Special education teacher Ranae Wren said that the biggest problem for special education children is that they don't have the socialization and communication skills that general education children have. They will either not talk that much or they will
be very aggressive. They have both problems: being bullied and being the bullies, she said.