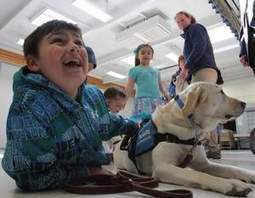 "We're no longer prisoners of autism. We have lives. We do things."
Twelve-year-old Kaitlin Flaherty ambles through Mrs. Green's Natural Market with her dog Leon, a black Labrador retriever, by her side.
The Peekskill family received Leon more than three years ago from Heeling Autism, a Guiding Eyes for the Blind program that provides service dogs to children with autism, a developmental disorder that appears in the first three years of life and affects social and communication skills.
Since then, the Flahertys have enjoyed a complete change of lifestyle. Leon, Flaherty explained, has given her daughter safety, independence, self-esteem and companionship.