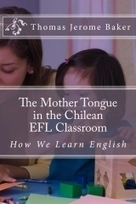 The Mother Tongue Taboo (speak only English in the classroom) addresses all the "Taboo Topics": Monolingual Fallacy, Native Speaker Fallacy, Early Start Fallacy, and More is Better Fallacy.
This book transparently shows 2 countries, one successful, one with marginal results at best, where Linguistic Imperialism, ie. the Four Fallacy Thinking…is not a Fallacy, but Reality, or Evidence-Based Results. In other words, it's not ideology, not philosophy, but responds to the real world rather than an imagined world.
If you read this book, do so with an open mind. Above all, prepare to have your thinking challenged.