Scoop.it!
There Just As Many Short Graves As There Are Long Ones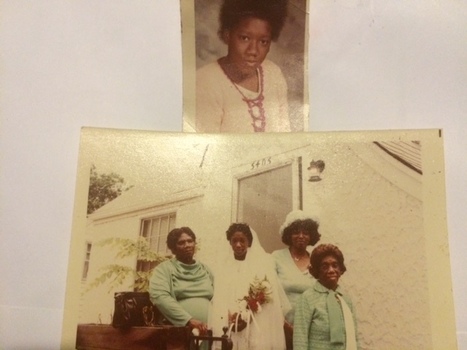 Louise Malbon-Reddix's insight:
Missed Church this morning. I got up and since I didn't take my bath before I went to sleep, I got in the tub this morning, and you guessed it, fell asleep! And when I woke up Church was about to start. So I stayed home.
Seemed like I kept seeing pictures of my second to last sister everywhere!
So after a little while contemplating and crying and going back down memory lane, one of my mom's sayings just came barreling back to my memory. "There are just as many short graves out there, as there are long one's." And you know, that saying became so real for me, because I lost so many of my brothers and sisters at such young ages. And I made it a part of my own life. So for those of you who consider me to be boring or whatever your view of me is, take a walk with me down one of the roads of my life. At one time in my life, I had 5 sisters. Now I only have two. All of my sisters, I lost at young ages.
To my nieces, and my daughter, ever wonder why I tried to keep you so close to me? I know, I know, you all got "grown" one day.
Before you was my little sister, real name, Patty Ann! Strong willed young lady, just like you all are now. Just in a hurry to grow up and live her life. So grown, and stubborn and left home. She got sick and refused to tell my mom how sick she was during her teenage years. Had a sore throat and a high, high fever. Turned out to be strept throat which she did not get treated. Being young, she got through it. But unbeknownst to her, it affected the valves of her heart. She was my heart. Came down and took care of my first born, Less Malbon. She had that boy walking by nine months old. I have pictures of that event!!! Shortly after that she met and married, and had her own children. She still helped me though!!! Bless her heart and soul. The damage her heart suffered in her earlier teen years would not show up until she had her second baby. Her heart could not handle the increased demand on it, and her valve blew.
I walked her through that whole time from heart cath to heart valve replacement. Can you imagine the pain in my heart I felt when I was told of her death? I almost died myself. So much we had gone through to get her back to health. Yes, DC General and all! That is when DC General won my full and total respect and is why I worked there until the doors closed in 2001.
So yes, my nieces, and now my own daughter who now too is grown and on her own, I held you all as close as you would let me. And yes, I said no to a lot of things, and am still trying to do my best to steer you in the right direction from a distance now. So, I ask you, all of you, no matter how grown you think you are, take a look a short ways back. See what I saw. Young women struck down in the prime of their lives, and for what? Tell yourself no now!!! You know right from wrong, and even what might not even be so wrong, still don't do it. Somewhere, I hope you will see that it is my love for you and the Wisdom in my mom's words that has come true to many times that make me error on the side of caution!!!
Patty Ann, I told your story, as you laid it on my heart through your pictures, that just kept showing up to me around here. Know you are loved and missed. Never will be forgotten!!!
some of you know this story. For those who don't, it is told in my book - Chapter Two Going and Growing Through the Pain Dealing with the Deaths.
Not easy by any stretch of the word! It is more than a love story..
Have you bought my book???
Louise Malbon-Reddix is the Author of:
Stand In Your Anointment - This Too Shall Pass!
Watch the Trailer & buy the book
http://www.youtube.com/watch?v=WfOUVQFaxU0
Let me know your thoughts too!!! You are loved!!!
Louise