Scoop.it!
How Do You Cope When Stuff Happens On Your Safety Level?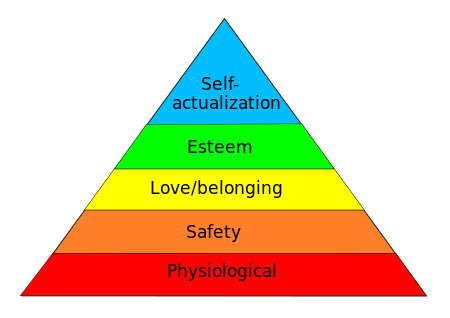 Louise Malbon-Reddix's insight:
Perhaps you wonder why I share job information from my Victory Road Wellness Center Page, and I am glad you asked that question!! The short and sweet answer is that I want everyone to be whole, and complete! Stuff happens in our lives. Seems like everyone should know what to do when "stuff" happens. Well different things affect us on different levels, in case you did not know. And believe me, a lot of us do not know. Despite all of our differences, and individualities, we all have some things in common, and that is we will all grow up! And we all go through stages of growth and development. Some of us look at others and wonder what in the world is wrong with them. The truth is that we do not understand where in the scheme of things, or on the pyramid a situation lands for others. To bring this into a sharper focus for you, and perhaps at the same time to shed some light on why/how people cope and deal even in situations that for sure are very negative for even life itself at times. Yes, even situations of abuse and neglect and violence. For sure, they do not like violence, but this is all they know and in some sad instances have grown accustomed too! In the case of children, not wanting to leave from those situations of abuse, this is a part of their bottom floor. Which for me in every sense is a contradiction to the word - safety. And to take them from it, or in other cases where it is ripped from them as in cases of war or divorce or the like which does not have adequate resources of support would be, and is very detrimental, because that situation is sadly, all they know. Now, here it is in definition and then I am sharing what I hope will be "supportive" and someone's blessing! Maslow's hierarchy of needs: From Wikipedia Maslow's hierarchy of needs, represented as a pyramid Maslow's hierarchy of needs is a theory in psychology proposed by Abraham Maslow in his 1943 paper "A Theory of Human Motivation" in Psychological Review. His theories parallel many other theories of human developmental psychology, some of which focus on describing the stages of growth in humans. Maslow used the terms "physiological", "safety", "belongingness" and "love", "esteem", "self-actualization" and "self-transcendence" to describe the pattern that human motivations generally move through. Maslow's hierarchy of needs is often portrayed in the shape of a pyramid with the largest, most fundamental levels of needs at the bottom and the need for self-actualization at the top... Safety needsWith their physical needs relatively satisfied, the individual's safety needs take precedence and dominate behavior. In the absence of physical safety – due to war, natural disaster, family violence, childhood abuse, etc. – people may (re-)experience post-traumatic stress disorder or transgenerational trauma. In the absence of economic safety – due to economic crisis and lack of work opportunities – these safety needs manifest themselves in ways such as a preference for job security, grievance procedures for protecting the individual from unilateral authority, savings accounts, insurance policies, reasonable disability accommodations, etc. This level is more likely to be found in children because they generally have a greater need to feel safe. Safety and Security needs include: Personal securityFinancial securityHealth and well-beingSafety net against accidents/illness and their adverse impacts A persoanl thanks to Councilwoman Taveras too for sharing this reminder for youth employment:The Prince George's County's Youth@Work/Summer Youth Enrichment Program (SYEP) for 2015. The Prince George's County Youth@Work/Summer Youth Enrichment Program provides an opportunity for young people across the County to participate in career development, life-skills training and summer employment opportunities. County youth may apply for positions in the public and private sector through several resources, including the County government and the Maryland National Capital Park and Planning Commission (M-NCPPC). Youth are encouraged to apply for all opportunities. The closing date to apply on-line for Prince George's County Positions is Friday, March 27, 2015, 5:00 pm EST. Prince George's County Youth@Work/Summer Youth Enrichment Program Link below: wegeorgescountymd.gov/sites/Summeryouth/Paww.princges/default.aspx
Louise Malbon-Reddix is the Author of:
Stand In Your Anointment - This Too Shall Pass!
Have you bought my book? Link to Trailer follows below: