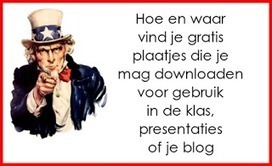 Dat je niet zomaar klakkeloos afbeeldingen mag downloaden of kopiëren die je vindt op 'Google afbeeldingen' mag zo langzamerhand wel bekend zijn. Met een aan zekerheid grenzende waarschijnlijkheid rust er op deze afbeeldingen auteursrecht. Herpubliceren van zo'n afbeelding in een openbare presentatie, op je website of weblog kan je een hoop geld kosten.
Gebruik altijd afbeeldingen uit het 'publieke domein', afbeeldingen met een 'Creative Common Licentie' (wel vermelden wat de betreffende licenie aangeeft of beter nog: maak de afbeeldingen (foto's, plaatjes) zelf.
Deze blogpost laat je manieren zien hoe je op het internet aan gratis afbeeldingen kunt komen, zonder dat je het auteursrecht van iemand schendt...