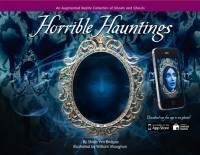 This is very appropriate to share just before Halloween. Ghosts are a great vehicle for AR although itcould actually be scary for some parents. I also love the idea that if you blow into the microphone of your mobile or tablet that you fill up the sails of the ghost ship.
This is a very cool example of the use of this type of technology. One day people will be looking back on the lack of dimension in traditional books. This may be a great way to get some people to continue reading.
Horrible Hauntings is a children's book/augmented reality app that brings ghost stories to life.