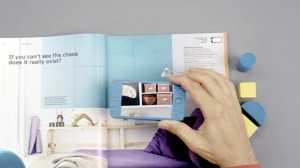 Ikea prints 211 million copies of its product catalog every year. That's more than 20 times the population of Sweden, the home of the build-it-yourself furniture empire.
"In early 2011, Ikea enlisted McCann to help bridge the gap between paper and digital. Replacing the paper catalog with an entirely digital catalog made little sense, Linus Karlsson, Global Chief Creative Officer of McCann, told Wired. "If you had a magazine that had 211 million copies in circulation, you just would't end it. That would be crazy," he said."
KF: perhaps this same thinking is required in the area of educational books. Textbooks are slowly chaning into eBooks but there seems to be no real headway made in finding a middle ground. Could it be that augmented layers are the key to this? Imagine in Engineeering where a picture of a processing plant could be augmented by layers that highlight function, electronics, structure, etc? Imagine health science apps that extend the anatomical image with motion, pathology, etc.